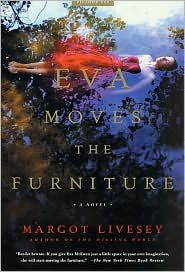 last night i read a book. yes mike, i read a book in a sitting. it happens, so i spose you should just get used to it now. :)
EVA MOVES THE FURNITURE by Margot Livesey. Here's the synopsis:
On the morning of Eva McEwen's birth, six magpies congregate in the apple tree outside the window--a bad omen, according to Scottish legend. That night, Eva's mother dies, leaving her to be raised by her aunt and heartsick father in their small Scottish town. As a child, Eva is often visited by two companions--a woman and a girl--invisible to everyone else save her. As she grows, their intentions become increasingly unclear: Do they wish to protect or harm her? A magical novel about loneliness, love, and the profound connection between mother and daughter, Eva Moves the Furniture fuses the simplicity of a fairy tale with the complexity of adult passions.
to say that i loved it would be a severe understatement... the story was pure magic.
go... do it.